If you have been forced to do your clothes shopping online due to the current pandemic, you might not be totally happy with the situation. Not only is buying clothes online less fun, if you're the kind of person who loves a good shop, anyway, but it also means that you can't try things on, hunt out those bargains on the sale rail or ensure that your outfit makes you look amazing before you buy it.
Don't worry though, because we've put together some tips and tricks you must know when it comes to buying Pakistani clothes online.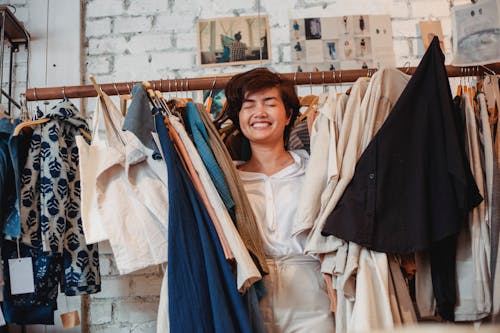 Find a reputable store
First and foremost, when buying Pakistani clothes online, avoid getting ripped off with inferior quality clothes, or just plain ripped off, by buying from a reputable store. Visit the website of a known brand or check reviews online to ensure that you are buying good quality clothing from a reputable seller and that's half the battle won.
But do shop around
That being said, you should not necessarily stick with the first shop you find. Take a look at everything that is on offer, and give yourself the best chance of finding something you truly love.
Take measurements
If you don't want to be disappointed when that beautiful new shalwar kameez doesn't fit, then be sure to take your measurements, or even better, have someone take them for you. You can't try before you buy, but you can choose accurately when you know your size.
If you tend to go for a more loose fit, just buy the next size up and you should be good to go.
Consider unstitched clothing
If you happen to be taller, shorter, wider or thinner than the average person, then buying some unstitched clothing might make your life easier because you will be able to alter it so that it does fit. That being said, it is easier to find Pakistani clothes online that fit all shapes and sizes than it is in the typically high street.
Check out trends
If you haven't been out and about much, you probably haven't been dressing up, and you may not know which trends are currently in fashion. If that's the case you may want to check out a few Pakistani fashion accounts on social media so that you can avoid looking out of style. Or, you know, if that doesn't bother you, just go ahead and buy whatever you see that takes your fancy.
Get in touch
Most retailers of Pakistani clothes online are only too happy to assist their customers. So, wether you have a question about getting the right fit for your frame or you want to know if authentic Pakistani embroidering techniques have been used, don't be afraid to get in touch and ask. It's better than guessing and maybe ending up with the wrong thing!
Take your time
Above all else, take your time. Browse at leisure, find the best clothes for your budget and enjoy them when they arrive.