My Perfect Fit came into being to forge the connection between its client and an individual piece of apparel. It has always been keen on delivering highly personalised experiences driven through technology.
Menswear has always been the sidekick of the fashion industry having a very limited range to choose from, let alone getting something that matches their persona.
Fashion for us at My Perfect Fit is a way to enable the gentlemen to communicate specific values, represent their individuality/ mood.
Since the time we started, we have worked with a wide range of clients which include corporate executives, CEO's, professionals etc. We have dressed umpteen number of grooms and their best-man.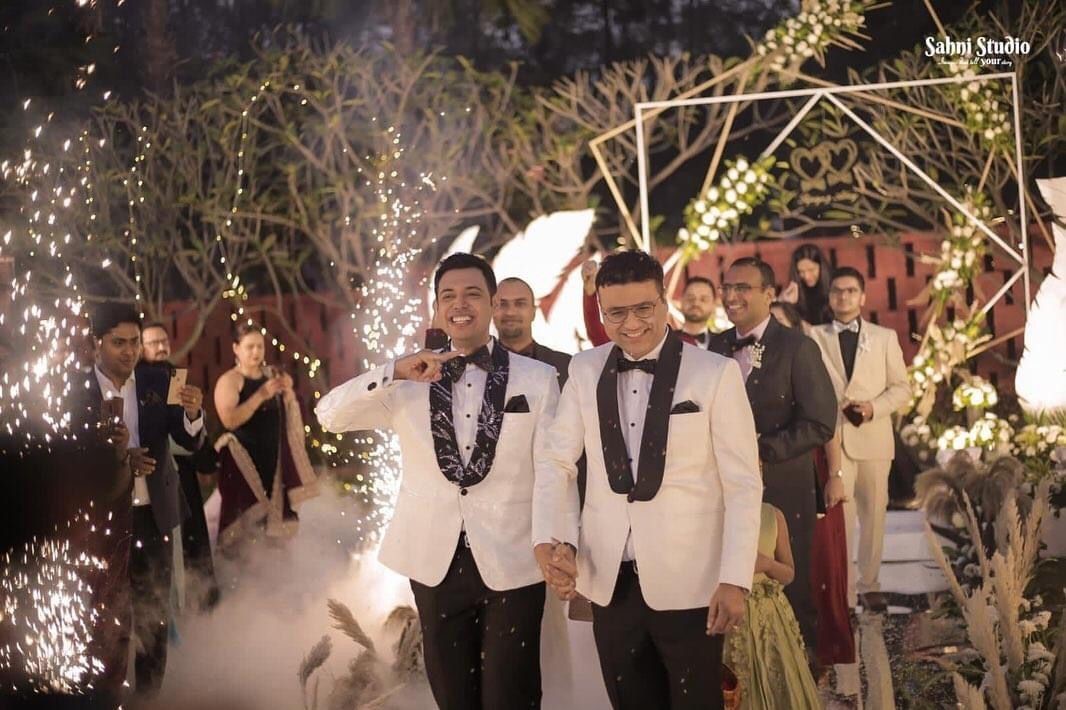 During this pandemic with limited events, things were getting quite boring for us. It was just another such mundane morning when we got a call from Supriyo Chakraborty. Well, he needs no introduction now, or does he? Still, let us reintroduce him. He is one of the partners who created the social media buzz when he tied the knot with his partner of 10 years.  Yes, our Desi Boys Abhay Dange and Supriyo Chakraborty gave the old/conventional mindset that a wedding is all about a 'bride and groom' a toss. Their unique wedding was all about the 'Grooms'.
Supriyo, approached us to design their wedding couture. Well, so we invited Supriyo to our office to take things forward. We became a   part of something bigger than we imagined when we met them and become a part of their beautiful wedding journey. To our surprise, this project was in all sorts unique for us as we had to style not just one but two Grooms.
Supriyo and we hit it off immediately — it was like a match made in heaven. His energy, aura and sense of style and clarity about what he wanted for the wedding made him the perfect customer to work with.
Supriyo had made it clear that he wanted to have something unique that represents his and his partner's individuality. He did not go for the regular readymade options available from different brands.
So initially we had a detailed conversation to understand his sense of style, preferences. He helped us gauge what does he wants for himself and what his partner's style is like.
Since it was a very unique project, we asked for a week to dive deep into research and come with options that would do justice to Supriyo's and his partner's fashion needs.
Research phase:  The entire week was spent understanding and come up with styles that Supriyo and Abhay would feel comfortable in. Also, to figure out the colour choices and Bengali and Punjabi fashion and culture. Other than fashion the second thing of supreme importance was their individual comfort level. It's important to feel comfortable and like yourself on your wedding day.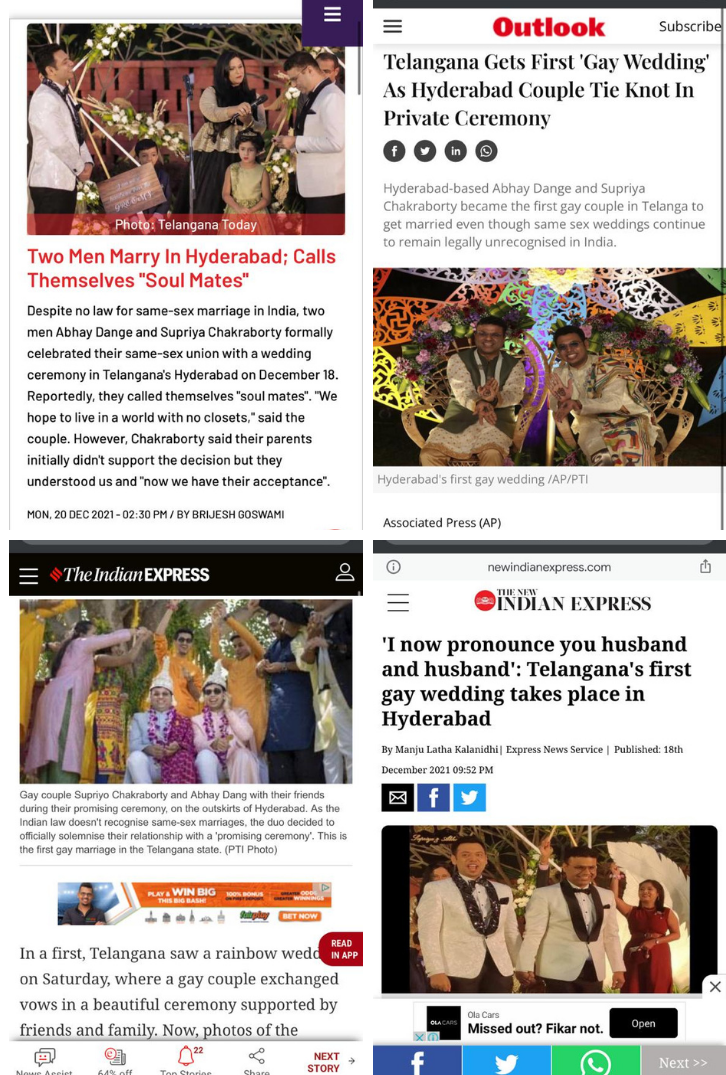 The main dilemma was to design clothes for both, which what we call as 'same-same but different ', as Supriyo being the bold one was someone who could adapt anything from subtle to bold while Abhay being the one who had a very British choice of subtle hues
Supriyo was present there in person hence we thought to go ahead with designing his apparel first.
To tell you all the truth we designed clothes for Supriyo, whereas Supriyo became a part of our team while designing clothes for Abhay.  Abhay we could only see from Supriyo's eyes as Abhay was in Delhi at that time
Haldi and Sangeet: – Supriyo wanted to play with pastel hues only, so we decided to go ahead with a peach coloured chikankari sherwani with the same coloured dupatta with gold Kantha work border as he had already selected some heavy oxidized jewellery to go with his dress. For Abhay we kept it safe, keeping in mind his choice. We went with powder blue pastel chikankari fabric sherwani and spiced it up with Phulkari Dupatta. Bengali and Punjabi flavour was kept alive with the famous Kantha work of Bengal and phulkari work from Punjab. We also added a little more cultural touch by asking the boys to wear the typical Bengali headgear called "Topor".
For Wedding:  Supriyo said he wanted to go in for an all-white piece, but with our advice, he chose the black textured jacquard blazer, paired it with a white shirt and topped it up with a tuxedo with the 3-D butterfly lapel. Since he was open to play with something different, we gave the tux a twist with a Butterfly bow to complement the lapel. We had a hard time finding the right fabric for the butterfly lapel but our efforts paid off in the end.
As usual, Abhay kept his choice simple and subtle with a plain tuxedo and a simple bow.
For Reception: We went in for a black simple kurta and to add some colour we suggested Poona pants with thread works of different colours. Supriyo being the sporty one, just loved the idea and gave a nod to the bold threadwork Poona pants.  As usual for Abhay, we took the help of Supriyo to understand likes and dislikes. Contrary to the Punjabi descent he was okay only with simple style. We opted for a black simple kurta with black pants.
The Trials: Supriyo's outfit was the first to get ready, after showing him all the pieces we started with the trials.
He was really satisfied and happy with all the pieces and to our surprise, the pieces needed minimal alterations.
For Abhay, the initial nod was given by Supriyo and when Abhay finally came in for the trials you could gauge his happiness by the look in his eyes and his comfort after trying the pieces.
We could make out how content Abhay was to know that his partner knows him so well that even in his absence he made the right choices for him and made sure Abhay's simple style sense was reflected in all the outfits.
Everyone around could sense and feel the love and the strong bond between these two beautiful souls.
Our Designer Ms Deepa had one word to say for the special couple, that her experience while styling the grooms was just "fulfilling and complete".  The couples were kind, understanding and allowed so much space to work freely.  She has not only two great satisfied customers for the company but she has made two great friends. That's what happens at My Perfect Fit.