Oval sunglasses are a very popular frame of sunglasses. They come in different varieties and sizes and can suit different face types. Here, you will know the different styles of oval sunglasses, can you pull them off, and which type of oval sunglasses you should choose for yourself.
Different styles of oval sunglasses
Oval sunglasses mostly boast swift curved and rounded lenses without the presence of any sharp corners and angles. The softer line in oval sunglasses takes on a variety of shapes. They most often come in completely round shapes. But, you can also find oval sunglasses frames available in flatter lens bottom and flatter browline.
When you go to a shop to check out oval sunglasses, you will find a variety of options ranging from the semi-rimless metal styles to the full-rimmed plastic frames with a bold cat-eye look as well embellishments on edge. You can go for the classic lightweight sunglasses frames as well.
Who can wear oval sunglasses?
Oval sunglasses mostly work for anyone and everyone. Due to the rounded nature of oval sunglasses, this style works amazingly on triangle-shaped faces and square-shaped faces. The strong lines of the oval sunglasses help juxtapose all the sharp facial features and the angled jawline of the person. If you are endowed with a triangle or square face, you should go for oval sunglasses with wingtips to help balance the jawline.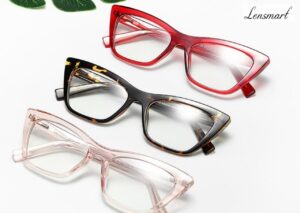 For heart-shaped faces, go for oval frames, which have a deep lens base. These styles will not only balance out your features but also complement the good part of your face. If you have a round face, oval frames will give you a high-fashion look and help you separate yourself from the crowd.
Oval sunglass frames look good on most types of faces. These frames also come in broad frame styles. These wide frame styles have put oval sunglasses in the vintage sunglass section as well. You can carry out these vintage sunglasses with a casual look or with a bold look. Any look you're going for, oval sunglasses will accentuate it.
When you have a round face, it is often advised not to go for round frames. This is not applicable with oval frame sunglasses. Even if you have an oval face, you can opt for oval sunglasses. The oval sunglasses have the most versatile face fit. You can choose to be adventurous with oval sunglasses irrespective of the kind of face shape you have. You can also opt for different frame choices when it comes to texture, size, and color.
If you are still unsure of whether oval sunglasses will suit your face or not, go to the sunglasses shop and check it out for yourself. The Internet can only help you to this point. You will have to put in a little bit of work to determine which type of oval framed suits you the most.