It is a very daunting task for the parents to choose the school for their wards at every age, whether to select play school, primary school, or senior secondary school.
Every age group school is significant in a child's life. It directly impacts the child's mind and affects his or her future.
When questions arise to select senior secondary school so it becomes very crucial for them to select because it will be the last school life stage leading point for the future. 
What is Senior Secondary school?
The school which runs with classes from primary to senior is senior school. In senior secondary education after X classes, students have to choose the subject as optional for further study. In Senior Secondary Education, you have to choose subjects and understand the depth of the topics.
My article will help the parents select the best senior secondary School of Jaipur named VSI International old secondary school.
VSI International Senior Secondary School
A renowned school of Jaipur for senior secondary education along with playgroup to primary education.
VSI International is an English Medium, Co-Educational Senior Secondary School, at Pratap Nagar, Sanganer, Blue Bells Shiksha Samiti established Jaipur in 1979. Famous Chartered Accountant of Jaipur MR. R.C. Sharma is the director of the VSI international senior secondary school provides a clean, secure, and well-organized atmosphere. Their faculty are trained, well experienced, and dedicated toward School and students.
It has all features that any parents can opt for their senior secondary education.
Key features of VSI International school
VSI international- the best school in Jaipur dedicated to the upliftment of students. VSI international school believes that education is the only tool to make students responsible and self-disciplined.
 Considering its strategies, VSI international school has very prominent features that prove worthy in the overall growth of a child and that are following
Sound Infrastructure
VSI international  school infrastructure is well designed and well-featured. The classrooms are very well designed with proper lighting arrangements.
Every section of the school is specially designed according to the students. The classroom and playground are prepared for this thought that provides comfort to students. Outdoor indoor games are arranged and teachers supervise them while playing
Digital Designed Classroom
Over the decade inventions in technology have brought changes in every service field viz. Education, hospitality, etc. VSI International School is always steadfast in following the changes.
VSI international school has transformed its classrooms into smart classrooms to make aware students of the latest technology.
The advantage of making a digital classroom is that it has changed the learning procedure for both teachers and students. The curiosity of learning has been increased. VSI International school has Math Lab and computer lab.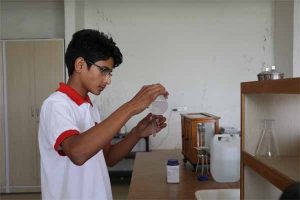 Student-centered Academics
Parents consider a school best on its academics and as far as VSI international senior secondary school's academics are concerned it is the most recommended students centered academics.
VSI international is the best senior secondary school with the best primary studies as well. VSI international organizes co-curricular Activities throughout the year to boost the social and physical skills of students. 
Dedicated and Qualified Teachers
VSI international school teachers are dedicated and hard-working. They give their best to help students and polish the students for the best output.
They treat every student equally and very passionately. And they have a substantial influence in shaping personality. 
They respond quickly and have problem-solving attitudes that develop friendly environments between teachers and students.
Parental Involvement
One of the best features of VSI international senior secondary school is that it involves parents in its curricular activities and helps them to understand what they can do.
It is a fact that if you want students to give their best so it is advisable that parents' involvement is a must in school. That's why timely parents teaching meetings are conducted so that the school will make them aware of the performance of their child.
Extracurricular Activities
VSI international believes that extracurricular activities are a balanced approach between learning and maturation. Extracurricular activities are included in the curriculum that goes parallel with academics.
Schools organize curricular activities and encourage participation in extracurricular and cultural activities to develop them mentally and physically.
Extracurricular Activities develop skills like leadership, management, social skills, etc. in students And creative activities are also organized to create intuitive and intellectual skills in students such as dance and music, painting, drama, etc.
Feasible Fees for Students
VSI international  never raises its fee structure like another school. In Low fees, they want to sustain the quality of teaching so that everyone can be inclined toward VSI international school for better education.
Key Takeaways of the Blog
VSI international school's every section of education, whether primary or senior, is growing toward best by that time. You can opt for VSI international school to make your child outshine with academic excellence along with extracurricular activities lifelong.